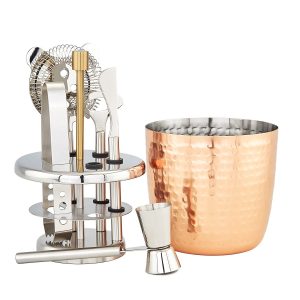 This Bar Tools Set is perfect for your home bar or at parties. Designed with durability and elegance in mind, this set is constructed of heavy-gauge stainless steel with a Copper finish. Each set includes an ice bucket with stand and tongs, 1 bottle opener, 1 cocktail strainer, 1 Jigger and 1 bar knife. The Aura Bar Tools Set will be a staple of your bar for years to come.
---
Japanese Jigger in 18/10 stainless steel. The Copper finish makes it elegant and attractive. An indispensable object for every bartender, easy to use, which guarantees a perfect measurement. Measurements 15 – 30 ml
---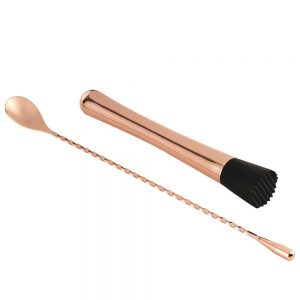 Premium 304 food-grade 18/8 stainless steel, solid and durable. Attractive color and design will impress your guests and make it a hit at parties. Dishwasher safe but hand wash recommended
---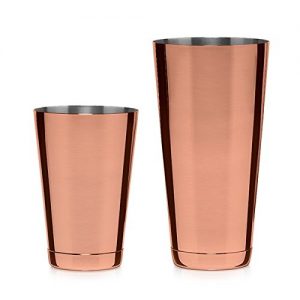 Koriko® Tins are professional grade and designed for a good fit with easier separation after shaking. This Set of 2 Koriko® Weighted Tins (large and small) has a 2 drink capacity.
---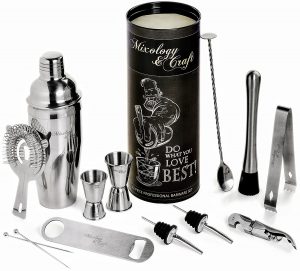 MIXOLOGY&CRAFT COCKTAIL SET:
– Rustproof 24 oz cocktail shaker – Premium SST grade. Including a built-in strainer and a top sealing shaker cap.
– Two Double sided Jigger – ½ / 1 oz (15/30 ml) and ⅔ / 1⅓ oz (20/40 ml) with imperial and metric markings.
– Mojito Muddler
– Mixing spoon
– Hawthorne strainer
– 2x Liquor Pourers
– Ice tongs
– Bottle opener
– Double lever corkscrew – Really easy to use and lightweight. The two step lever action makes withdrawing the cork from the bottle easy.
– "Mixology&Craft book of recipes" – An online access to "Mixology&Craft book of recipes"- A yummy feature that will introduce you to an amazing world of cocktails!
---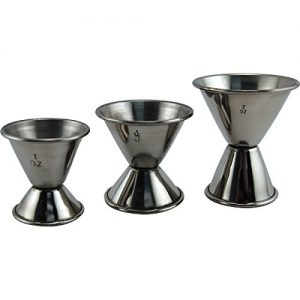 Mixology is an art that rewards precision. Even pro bartenders still need a dependable cocktail jigger for the accurate measuring that ensures world-class drinks. This jigger is made of durable stainless steel and has two functional sides. It is available in three sizes for your cocktail creating convenience, so you'll always have the exact measurement you need. Stop ruining your drinks with pours that are just too strong. Put this stainless steel cocktail jigger behind your bar and you'll be a drink mixing maestro! In stock and ready to ship. Features: Made out of 18-8 grade stainless steel. Specs: Small Jigger, Medium Jigger, and Large Jigger Capacity.
---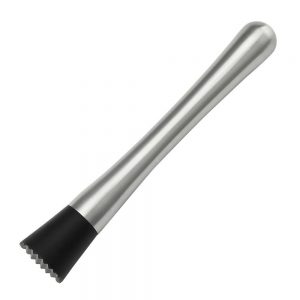 Creating exquisite cocktails requires not only the right ingredients but the right tools as well. Professional bartenders will tell you that the muddler is one of their most indispensable tools. The muddler is essential for thoroughly blending the flavors of herbs, spices and fruits used in many popular cocktails. The Mojito, Mint Julep, old Fashioned and Capipiroska all require muddling to make them taste fabulous! This "muddling" of the ingredients brings forth a burst of flavor when the alcohol is poured into the glass over the mixture.
Traditional muddlers are made out of lacquered wood, which often, over time, becomes difficult to clean and can lead to polluting your drinks. This new modern version is made of stainless steel which will remain beautiful and never add unwanted tastes to your drinks. It has a grooved nylon head for through mashing (muddling) of ingredients.
---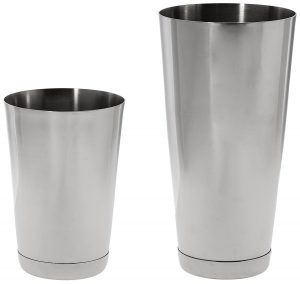 With these 15 oz. And 30 oz. Shakers, also known as tin, Boston, or cocktail shakers, you've got everything you need to make incredible cocktails. Simple to use and easy to clean, these cocktail shakers are quick to become a bartender's best friend.
---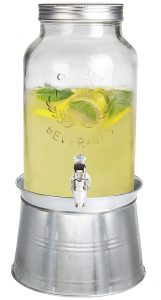 This glass drink dispenser with ice bucket stand will definitely make a great centerpiece and enhance your event, party etc.. mason jar beverage drink dispenser with a tin screw off lid on a metal stand that also serves as an ice bucket and chromed tone easy to pull non-drip spigot. Dispenser holds up to 1.5 gallons and ice bucket holds up to 3.6 liters.
---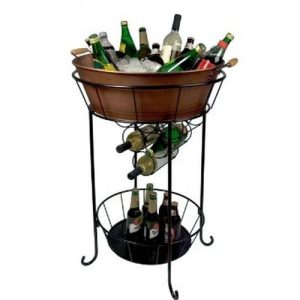 The oasis party stations includes a round party tub with its own stand. On the stand, there is a wine bottle rack and a Landing at the bottom of the stand for placing other accessories. Great for picnics and indoor and outdoor entertaining. With an ant. Copper finish; C2; Oasis Party Station Antique Copper Tub; Bar Tools; barware-tool-sets